Commissions
Commissions are currently closed.
I'm not able to take commissions at this time. Check back soon!
Commissions are closed while I work on some personal projects.
Hello!
Thank you for considering to apply for a Virmirish Commission. Please note that I will not accept all commission applications. To improve your chances, please keep in mind the following.
I only draw all-ages appropriate cartoons. Browse through my gallery to get an idea of what I draw.
I only accept reference pictures that are all-ages appropriate.
I only accept payment through PayPal. Payment must be received in full before work begins. I will send you an invoice of the total amount, so you don't have to manually input the correct amount to pay me.
I am currently accepting commissions for the following types of drawings! All prices are in USD.
Standard Toon - Full Body Character
Prices are per character.
Fully Shaded - $30
Flat Colors - $25
Inked - $20
Sketch - $15
Simple Toon Discount
Applies if your character is very easy to draw! Generally this means toons with simple fur patterns and no clothing.
Discounts: Fully Shaded - $5 off / Flat Colors - $4 off / Inked - $3 off / Sketch - $2 off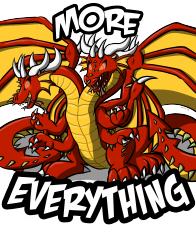 Complex Toon
If you've got a crazy character with like three heads and four wings or something, I might charge extra.

Generally $5 per fully shaded character, but may vary.
Add Virmir
Virmir (and variations) can be added to your drawing for the below prices each appearance! Virmir is good as a cheap stand-in if you don't feel like paying more to put your friends in your drawing. (Eww!)
Fully Shaded - $20 / Flat Colors - $17 / Inked - $15 / Sketch - $13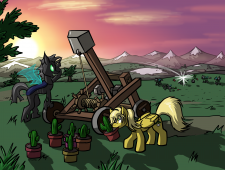 Background - Add $20 - $35
Backgrounds depend on complexity. Let me know what you have in mind and I will give you an estimate. If you don't want a background, the final image will just have tranparency behind the character(s). Special effects and foreground/background props may add to the price.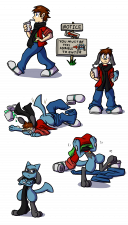 Sequence
Multiple drawings of the same character such as in a transformation, balloonification, or similar sequential silliness are eligible for a discount after the first frame! Discounts also apply for the same character drawn in multiple poses.
Fully Shaded - $30 first character appearance, $25 each additional appearance
Flat Colors - $25 first character appearance, $20 each additional appearance
Inked - $20 first character appearance, $18 each additional appearance
Sketch - $15 first character appearance, $14 each additional appearance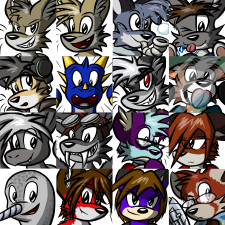 Faces/Icons/Avatars - $10, $8 for each additional
A single zoomed-in facial expression! Ears and hair are probably going to be cut off a bit. Additional faces beyond the first are $8. You also only pay $8 if you buy a single face along with any other commission.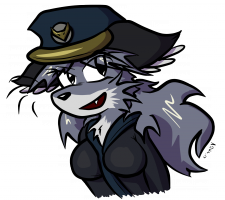 Upper-torso / "Badge" style - $20
A waist-and-above shot! Text is optional. I also charge this rate if your character is only half-visible in a drawing, i.e. behind a table or something.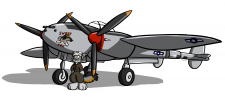 Vehicle - $35
Add a vehicle to your drawing for $35! May vary slightly depending on vehicle complexity. Rates are cheaper for flat colors and below.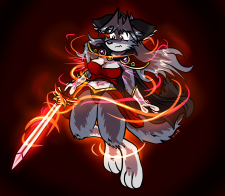 Crazy Glowy Effects - add $5
Only available for fully shaded pictures. Generally it's $5 additional per 1-3 characters or so.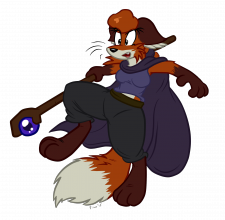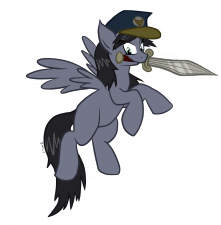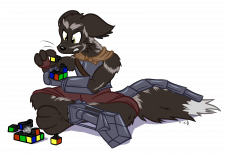 Colored Lines - $30 per standard character
Sort of an experimental thing. Flat-color colored line drawings are priced the same as shaded works.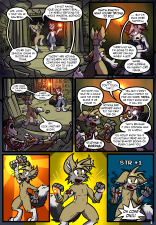 Comics
I enjoy drawing comics, and would love to draw some for you! Please see Crimson Flag, Virmir-World, and the random comics gallery here for some examples. Please note that comic pages are time consuming, and therefore pricy.
I don't have a simple guide on pricing, but it is essentially determined by the number of panels, the number of characters in each panel, and the complexity of the background in each panel. Please pitch your idea to me and I will make up some quick layout/positioning diagrams which I will base my pricing estimate on and which will help you get an idea of how the page(s) will come together. Fully colored and shaded comics may run up to $20 or more per full sized character per panel, plus the cost of backgrounds.
No "do whatever you like" comics, please! I don't mind writing a script for your idea, however I do need to know what you'd like to happen.
Other ideas?
If you'd like something that's not specified here, just run it by me and maybe we can work something out!
Commission Application
Made it this far? Great! If you would like to apply for a commission slot, please send the following information to
.
A reference of the character(s) involved. Reference pictures must be "clean".
If you do not have a reference picture, that's fine! Please provide as detailed a description as you like.
A description of the drawing itself. Please describe pose and accessories!
The level of completion you are interested in: Fully Shaded, Colored Lines, Flat Colors, Inked, or Sketch
If applicable, also let me know your username on Deviant Art and/or any orther similar art sites like that so I can link to you when I post the artwork there.
What happens next?
I will contact you within 24 hours to let you know if your application has been accepted. Please do not be offended if I don't accept your drawing idea. I can be picky sometimes.

If I do decide to take your commission, I will name my price and your commission will be added to the waiting list.
I will contact you approximately one week before I'm ready to draw your commission with payment instructions. Please keep an eye on your email! If you do not respond, you will lose your place on the waiting list.
Once payment has been received, your commission will be scheduled on the commissions list.
Next, I will send you a "rough sketch" of your drawing for your approval. Please keep an eye on your email! If you do not approve the rough sketch, I cannot continue drawing! You may request changes to this sketch up to three times. If more changes are required, I reserve the right to charge a $5 change fee per change. If you wish to cancel at any point during the sketching process, I will refund your money, minus a sketch fee, depending on how much work was put into it. If you are only getting a sketch, you may still requests revisions.
Your drawing will be posted to this art gallery and my various other galleries across the web. If you would like me to delay the posting (i.e. if it's a gift for someone else), please let me know and I will do so. Also note that I stream all my commissions unless requested otherwise. Keep an eye on my twitter if you want to watch!
Please see the Usage Policy for details on how you may use the artwork. If this commission is for a printed publication, please let me know and we will discuss terms.